't Blauwe Theehuis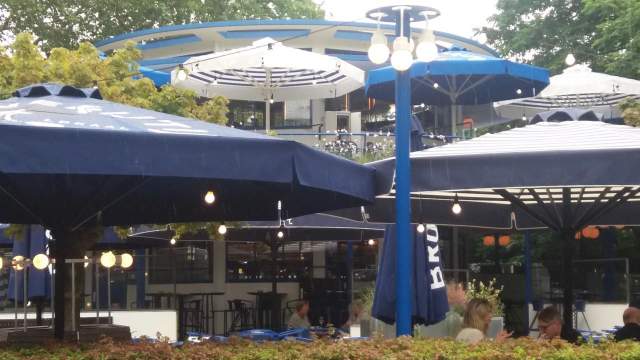 Vondelpark 5
Amsterdam
1071 AA
(West)
Landmark cafe in the middle of the Vondelpark is the newest 't IJ taproom.
Since it is in the middle of the park, all trams and buses will require some walking.
Groteflis says
Exclusively beers from brewery 't IJ. Open from 9:00 till midnight. The 8 taps pour the standard beers, seasonals and specials from the Brewpub 't IJ at the Funenkade. The 'Blauwe Theehuis' pilsner is brewed for this place at the Brewpub. Breakfast from 9:00, Food/snacks: pizza (1 slice or 3 slices). The terrace is huge, 200 seats at the first floor and 800 around the building (almost 360º). Visit the first floor, you can sit inside and outside. This place can be very crowded at warm summer days. Visit 't Blauwe Theehuis at a rainy day in summer, sure you find a dry sit outside. 't Blauwe Theehuis was built in 1937, it's a beautiful example of the '' Nieuwe Bouwen'(Dutch architecture) and a National monument.
Back to the pub search.
---
---