Foeders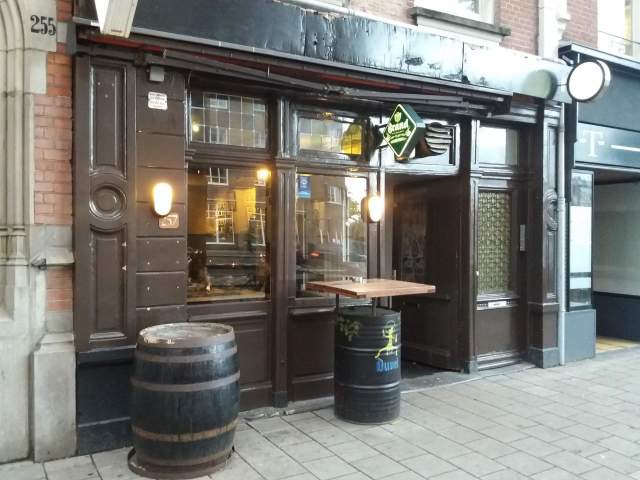 Ceintuurbaan 257
Amsterdam
1074 CZ
(Zuid)

0636593100

@YuriHegge
Brown cafe with an amazing beer selection.
Fred says
In addition to an outstanding tap and bottle list they also sell selected lambic by the glass so you can taste a variety without having to buy a whole bottle. This is a do not mis place, a world class pub.
Groteflis says
Café Foeders facade looks not very special, everything changes when you enter Foeders. Owner Yuri Hegge personal welcomes you with a glass of fresh water. Before the Belgian Yuri moved to Amsterdam he ran a bar in Lommel (B). He works 7 days a week in his pub with pleasure. His first aim is that people socialize and feel good at Foeders. Because Foeders is a 'volkscafé', a folk pub. Where you can drink Amstel pilsner or Chouffe, Koninck or 't IJ. With free peanuts, just drop the peanut shells on the floor. Other available snacks are cheese and sausages. All together there are 42 taps, a lot of them have very special beers that are hard to get on draught like Oerbier, Dulle Teve or beers from Tommy Chef Koenen. A wide range of specialities, sour or local. Special is also the Duvel on draught. But for me his collection of Lambic beer, Oude Geuze and Fruitbeers is the absolute top. Big bottles (to share) are visible in a glass cabinet and cooled at 6-7 ºC. He buys his lambic beer direct from the brewers and has an keen eye for special editions and unique fruit beers. Yuri is an amiable and expertized beer connoisseur, you don't forget this place after your first visit..
Back to the pub search.
---
---
Tweets by YuriHegge